Flourishing Homes and Families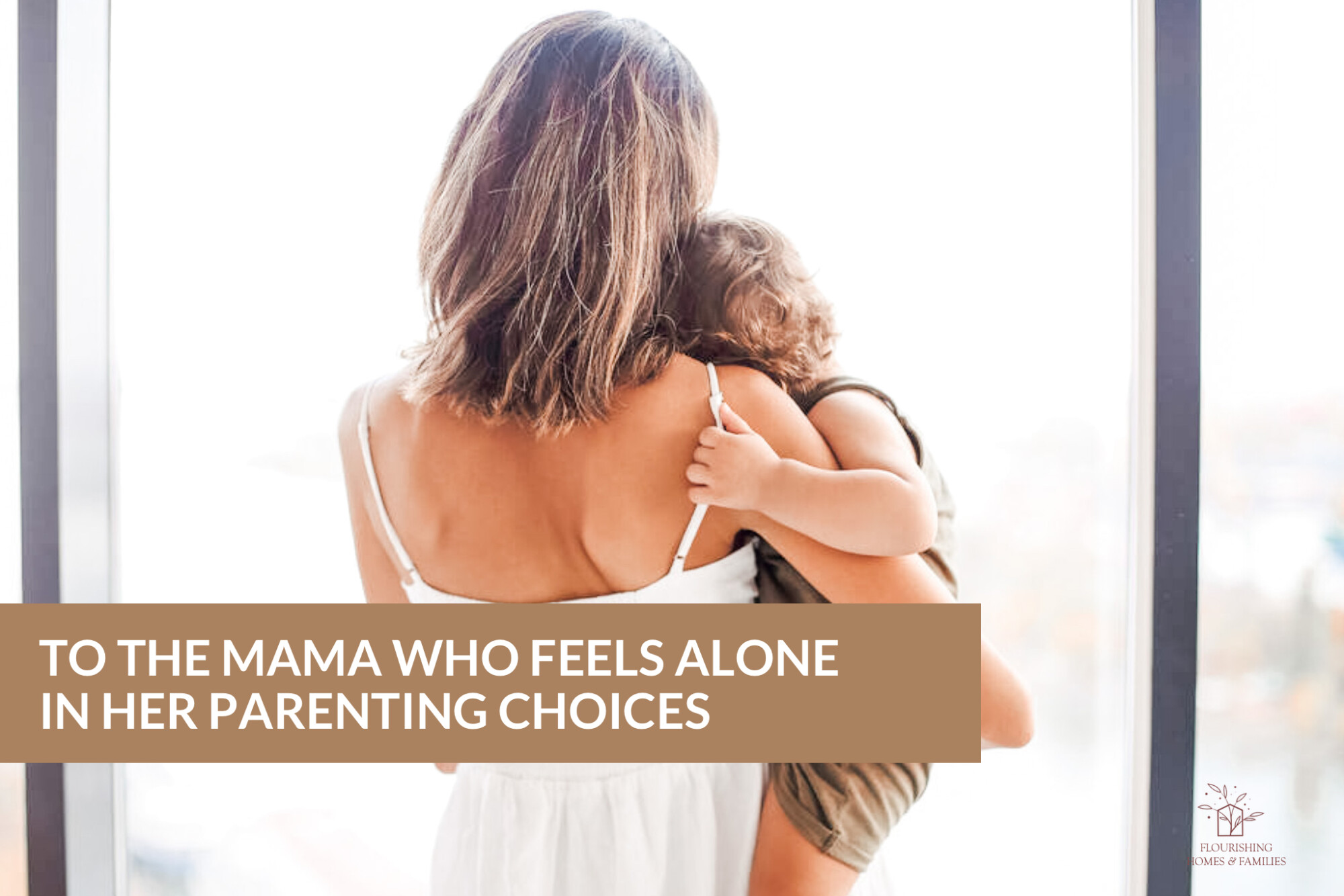 To the mama who feels alone in her parenting choices,
I see you. I've
been
you.
It feels like you're hiding in a closet somewhere because you grew up in a pro-spanking or pro-punishment culture but you've decided to raise your child with grace and respect instead.
The people around you think you're nuts for choosing to parent as a peacemaker instead of a firm disciplinarian.
You know the truth! You've experienced for yourself the character of your good father, God. You know the contrast of grace vs. the law. You've even seen how modern neuro-science backs it up. Of course it does–it is all a part of God's design. These kids are his image bearers, after all.
But you still feel alone. And on the hard days you ask yourself, "is this really the right thing?" They say "Motherhood–it takes a village." But where is my village?! You wonder.
Many days you feel ill-equipped. It feels like your children are a little, or a lot rowdier than their peers, and even though you're convicted and convinced that spanking and fear tactics are wrong, you wonder what on all earth are you supposed to do instead.
You've been trying to navigate conflict after conflict. Some days it seems like all day. You are doing your best but some days it just feels like it is too hard. I see you sitting on the floor in the kitchen out of the kids' view. Grabbing a handful of chocolate chips and crying a little. You look down and see you are wearing the same sweatshirt you put on a couple of days ago. Your face still has leftover makeup on it because you keep trying to make yourself feel put together but at the end of the day you're too tired to wash it off.
I want you to know that I see another side of you, too.
I see the mom who can walk into sibling disputes, bedtime battles, toddler tantrums, and tween angst and bring in the grace of our Lord Jesus Christ. You choose to love and not cause fear. You choose to help and not to hurt. You choose to demonstrate humility and not pride. Because of that, your children trust you. They learn from you. They look up to you. And even when it feels like it isn't true, I promise you, they love you for it.
It is this tenacious side of you that makes you a great mom. Maybe you haven't read all of the parenting books. (When would you have time, right?!) Maybe you're the only one in your circle who believes this grace-based parenting is actually going to pay off. It could be that most days are still hard days and you find that you are working even more on yourself than on the kids…
But let me tell you something: You are not alone in this. We want to be your village. We want to invite you to the beautiful community we're building in The Mentorship. It's a space where you can connect with others who have chosen to parent with grace and peace, and it is filled with encouragement and support for your family.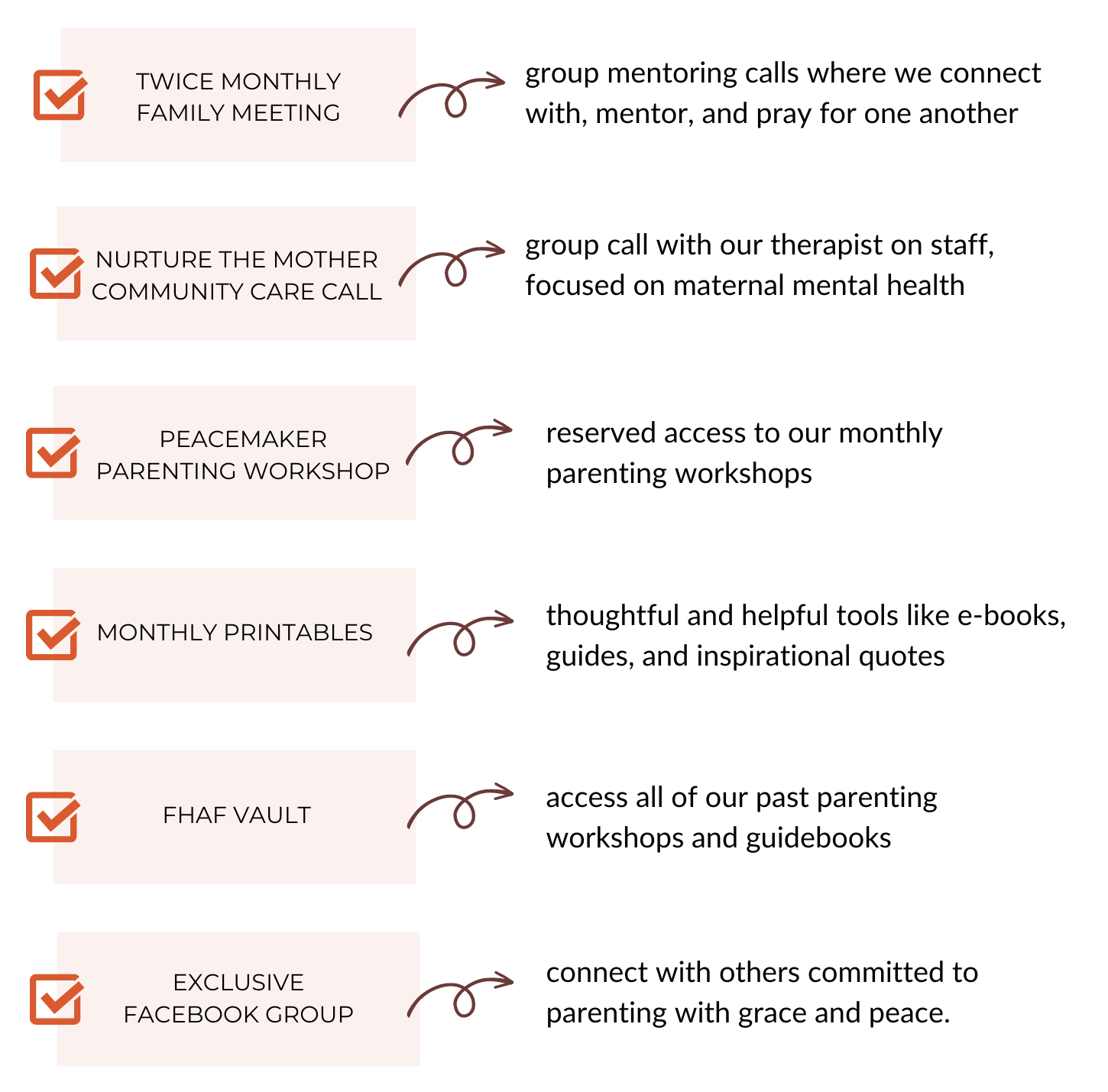 WHAT MEMBERS ARE SAYING

Flourishing Homes and Families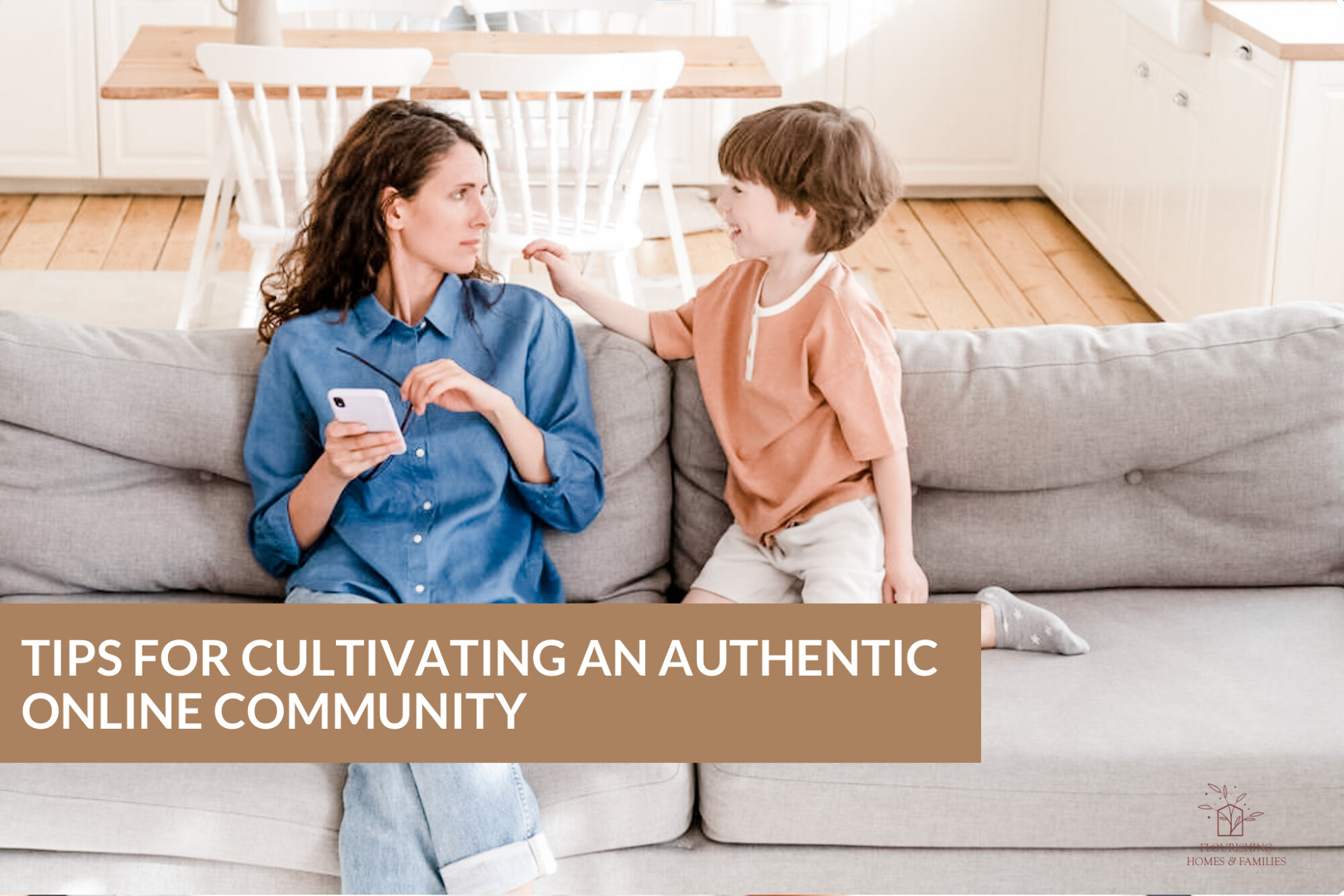 We were created for relationship. First, with our creator. Second, with other humans.
But what do we do when that community feels impossible to get into?
It could be that going out to meet people face-to-face feels too time-consuming. It's hard enough to find time to eat your own meals–finding time to meet with friends is near impossible now.
It could be that you're just in a different season of life than those around you and even when you're with people, it drains you rather than filling your cup like it used to. Your friends are still nice, but they just don't have the same things to consider as you do. A night out for them is just a night out. They get to go home and sleep through the night. You get to go home, tiptoe around sleeping kids, prep school lunches, and then be woken up by a nursing baby or a child who needs you. It's not bad, it's just different.
It could be that life just feels a little overwhelming right now and one more thing is too much on your plate. The emotional energy isn't there.
Whatever the reason may be– you are entitled to it and I want to encourage you as a mom who has been there.
Don't let anyone tell you that social media relationships are worthless. There is a whole community of like-minded mamas out there. I know this because I have met them myself. I have been blessed to find a few kindred souls within social media circles, but there are a few things I needed to do to make those relationships possible.
So let's talk for a minute about how to cultivate authentic relationships on social media
CHOOSE AUTHENTICITY:

It is not sustainable to keep an edited image. Whatever your life looks like right now, just be honest. If that means you don't have time for makeup–don't wear makeup. If it means your sink is full of last night's dishes–you don't need to wash the dishes before you facetime. You get the picture here!





QUALITY OVER QUANTITY:

It is not about building up a huge followers/friends list on social media. It is about finding a few–maybe even just one– kindred mom/s to share in the day to day with you.





BE VULNERABLE:

This can be hard–speaking from experience here– but I have found that people relate to the raw and honest stuff. It is easy to share about what you had for breakfast–but are you willing to confide in a sister about how it made you feel when you had to abandon the shopping cart because all of your kids were crying and you realized you left the house without your wallet and both shoes?





SET A SAFETY STANDARD:

Demonstrate that you are a no gossip kind of person by not talking badly about other people or judging the hearts of others. I have been turned away many times by a person who uses social media as a way to elevate themselves and put others down. It doesn't feel safe for me and I don't feel free to share or be myself. Make sure your circle of people knows they are safe with you, to share and to be just as they are.





COMMIT IT TO THE LORD:

God is a good, good father. He knows what you need and He delights to give it to you. Take time to bring your need for community to the Lord and seek Him as these friendships form.



Listen, tired mama, I know the hardship of loneliness. I'm here to tell you that you don't have to be ashamed of building an online community. People are people. We can love them and be loved by them no matter how we are able to communicate. Online community is still community–and that is something to celebrate!
Help us build a resource here for people looking for community by sharing how you cultivate online relationships in the comments below.
And if you're looking for a community of like-minded parents, check out what The Mentorship offers: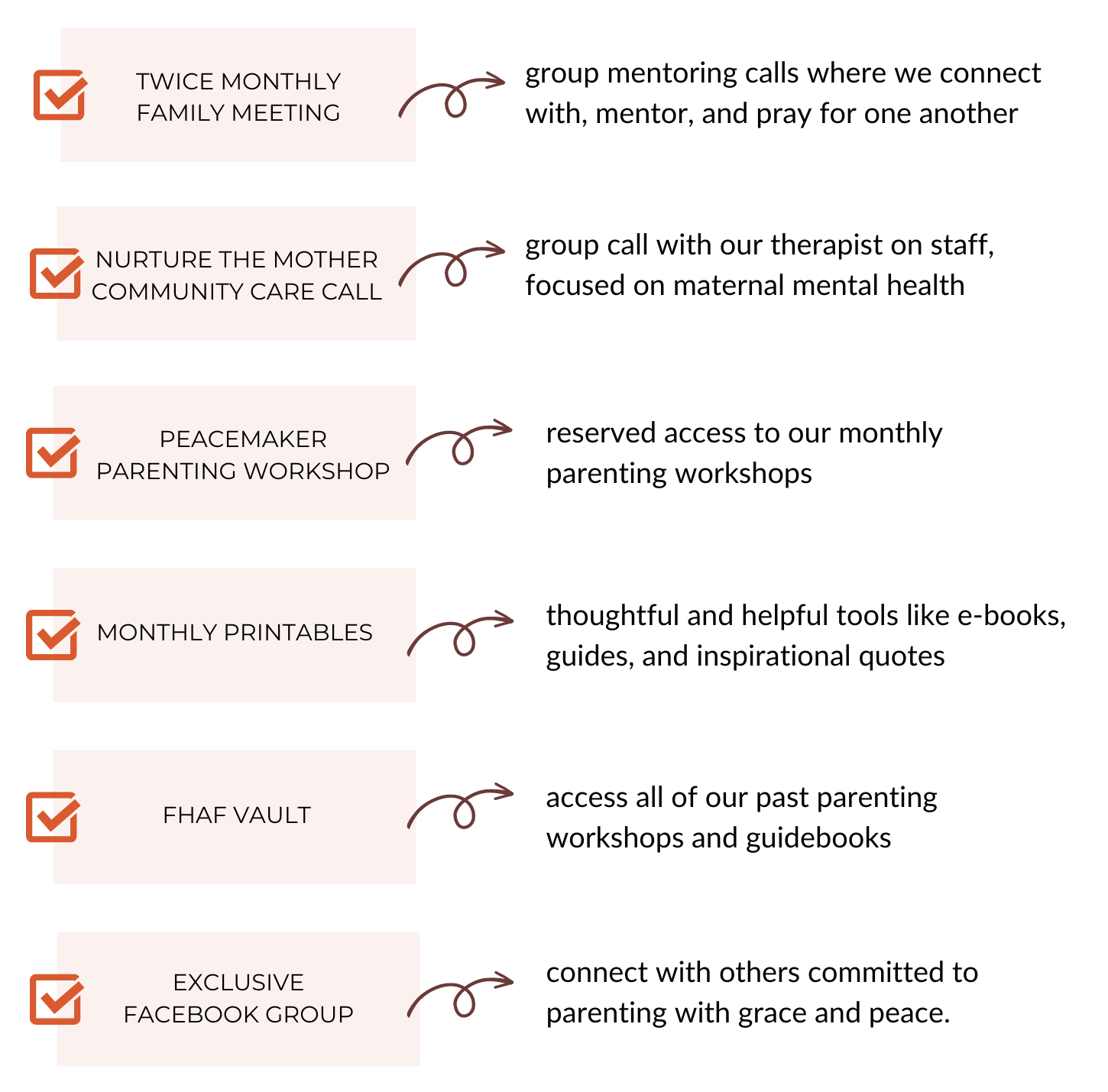 There's room at our table for you, sweet mama. Come join us.