Flourishing Homes and Families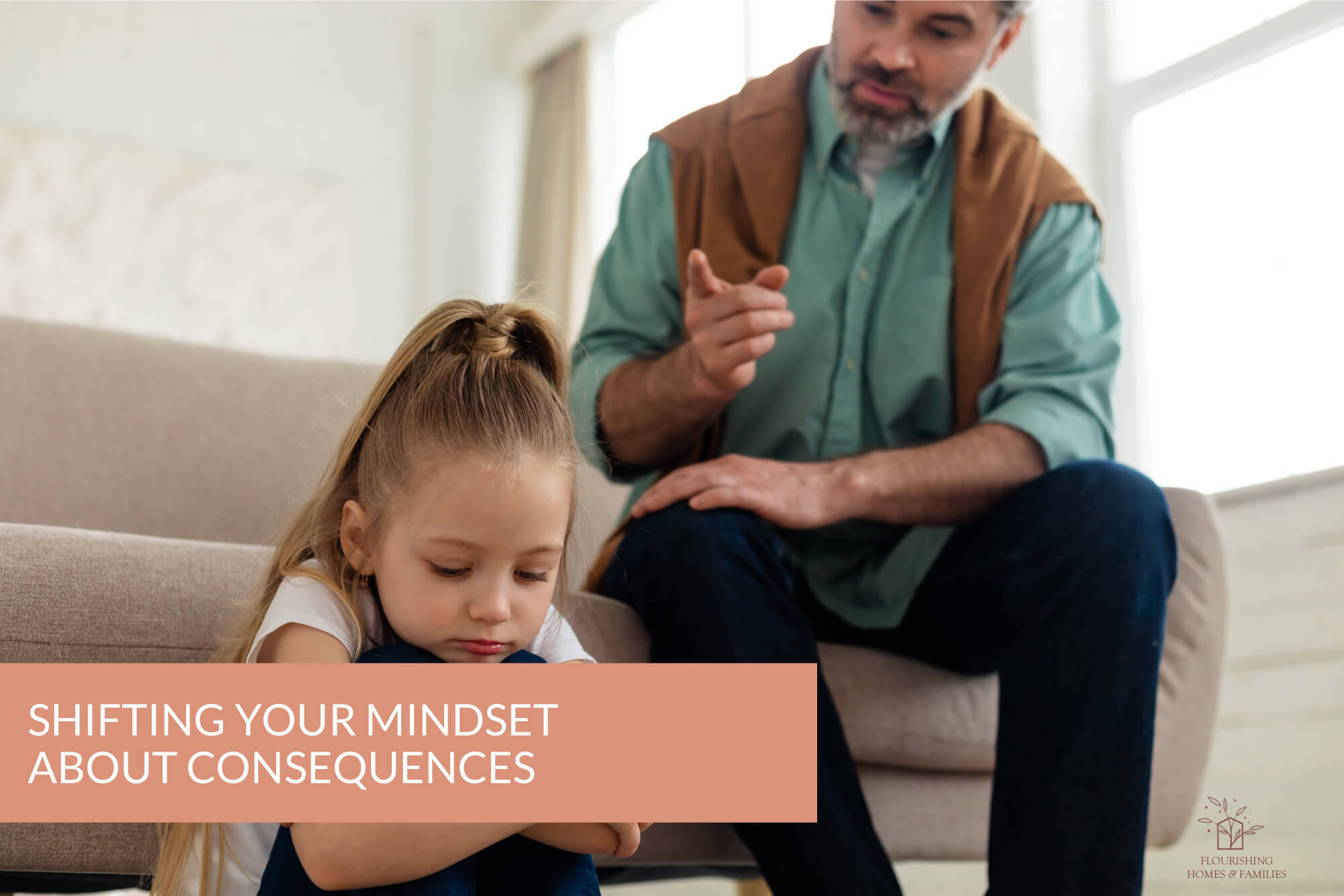 Brooke, one of the moms in The Mentorship, shared this story with us recently that perfectly illustrates the Peacemaker Parenting approach to consequences:
"That last time we were at my mom's house, Eli (4) started playing with a ball inside. He wasn't being particularly naughty or disruptive with it, so we adults just sort of kept talking and didn't pay that much attention. Before I knew it, Eli had thrown the ball at just the right angle and knocked a picture off the credenza, breaking the glass. In the past I would have been very stern with him, scolded him for being naught, put him in time-out, and put the ball away. This time I tried to focus on future-facing consequences. Because there was glass involved I didn't make him help me clean it up. But we did talk to his Grandma and together we decided that Eli and I would go to the craft store and replace the glass in the frame. We also defined new expectations that balls are only for the back patio or back yard at Grandma's house. My mom is going to get an all-weather basket or tote to keep outside toys in for the future."
---
First, let us make this disclaimer perfectly clear, because sometimes it is misunderstood or misconstrued: Peacemaker Parenting does not avoid all consequences, and we personally don't believe consequences should never be used.
That being said, when a parent's mindset is heavily weighted towards consequences, they are more likely to fail at helping
children learn the skills and tools, and gain the maturity needed to do better next time. Focusing on consequences is a backward-facing approach. Focusing on empowering is a forward-facing approach. This is why, in Peacemaker Parenting, we do not rely on consequences to hold boundaries and limits or to manage and control behavior.
Nearly every choice and behavior has a natural consequence or outcome, and those natural consequences can sometimes be the best teachers. When we settle into a consequence-heavy mindset, it is easy to unintentionally hurt our children with the consequence (which breaks trust and connection and inhibits their ability to learn to do better), rather than helping them know what or how to do
differently
next time. Rather than looking forward to what can be done differently next time, our child focuses on the imposed consequence (which can very easily just be a "punishment" delivered more gently).
Max B
ledsoe, father of Drew Bledsoe and author of Parenting with Dignity explains why this can be counter productive:
"When a parent resorts to punishment, parent and child pay attention to the punishment, its fairness, and whether it has been enforced or followed. The child stops thinking about the decision process in his mind that brought about the negative consequences—and doesn't think at all about what he might do differently."
It isn't that there is never a need for logical consequences - there certainly are! But removing a child from a harmful situation or taking away something to keep it safe merely fixes the problem in the moment. Our children need to be patiently coached, guided, taught, and empowered with how to handle the same situation next time. Empowering them with emotional regulation tools, scripts for respectful conflict, and what or how to do better next time equips them for the future rather than punishing them for the past.
This is where future-facing consequences can be so life-giving.
Future-focused discipline allows us to evaluate our children as whole beings, taking into account their physical, emotional, and sensory needs, their personalities, and their development. That enables us as parents to create a robust and wholistic approach to empowering them for the future.
This can take many forms, from practicing impulse control through classic childhood games like Simon Says and Red
Light, Green Light, (which, admittedly may not feel very "
discipline-y", but it is important to build and strengthen a child's impulse control "muscle" before placing an expectation on them that is rooted in controlling impulses and urges) to brainstorming a code word or private prompt for you to use when they need a gentle reminder to speak with respect and honor.
The summer our boys were 7 and 8 they struggled with sibling conflict more than what we thought was typical. It felt like every little thing turned into an explosive argument. By that time we'd spent a few years teaching them healthy conflict resolution, but all of it seemed to have gone out the window.
We could have punished them for fighting, or used a reward system to motivate them to focus on being kind to each other. Instead, we invited them to write and illustrate their own P.E.A.C.E. Plan. They spent a couple of hours one afternoon creating a conflict resolution guide customized to their personalities and needs, that they were then able to use any time they had disagreements or problems that needed intentional peace infused into the situation. This is a future-facing consequence - it empowers them with a tangible tool to help them in the future, rather than using negative consequences to try to deter their fighting.
Want to learn more? Our upcoming workshop, Peacemaker Parenting: Consequences is all about natural, logical, imposed, and future-facing
consequences!
Learn more, and register here
.