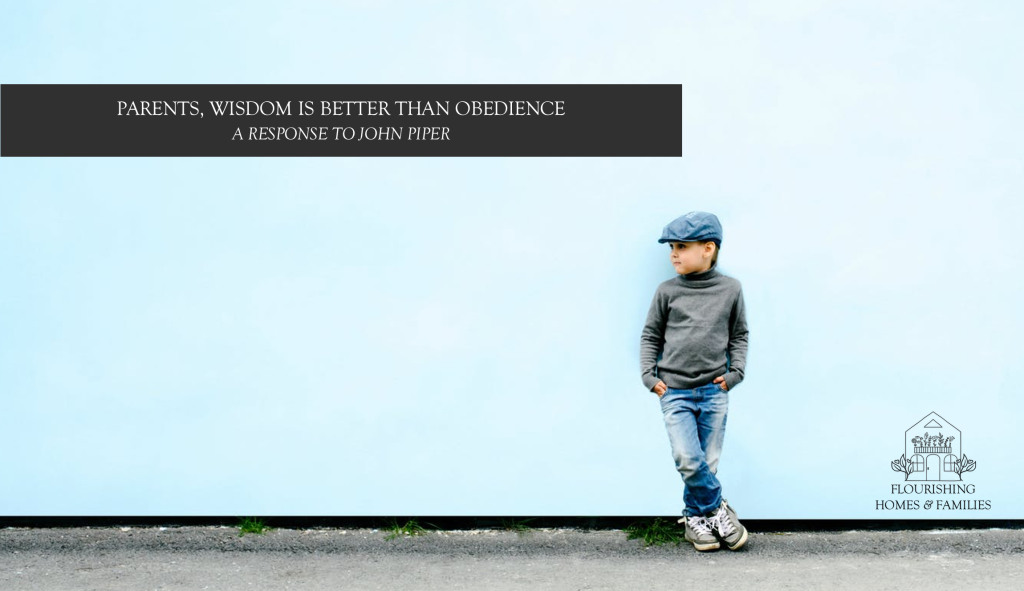 In general, we try to present in a positive way what the Bible actually says about parenting and let our followers draw the contrasts to more traditional perspectives. But a blog post "Parents, Require Obedience of Your Children" by John Piper twists Scripture in subtle, but significant ways, and is once again making its rounds within our circle of friends, so we decided a response was in order.
1. Beware making implicit commands from Scripture.
Piper writes, "Requiring obedience of children is implicit in the biblical requirement that children obey their parents."
This statement boldly presumes to know what God should have said, rather than what God did say. This is the same road the Pharisees trod.
If the Spirit wanted to tell fathers they should require obedience of children, He could have done so. After all, He was already giving commands to fathers in this passage! What the Spirit commands is sufficient, He doesn't need our human ingenuity to create more commands.
Nor does Piper's logic hold up in the context of Ephesians 5-6. According to his logic, it makes no sense that God would require wives to submit to their husbands and yet not require that Christian husbands should require submissive obedience from their wives. This is a wide open door for domestic abuse. But what about husbands? By the same logic, Christian wives should require love from their husbands. Unless one fundamentally redefines love, this is absurdity. Yet this is kind of logic that Piper employs to twist Ephesians 6:1 from a command given to children into one given to parents.
2. Obedience is a part of the gospel, but it is the gospel that enables that obedience.
Piper writes, "Parents who do not teach their children to obey God's appointed authorities prepare them for a life out of step with God's word — a life out of step with the very gospel they desire to emphasize."
External compliance and genuine obedience are not the same thing! God is not after external compliance to certain rituals and behaviors. He is after our hearts! He pursues genuine, joyful obedience from us. This requires the power of the Spirit regenerating us to bring us into obedience to Him. No amount of practice complying to our parents' commands will ever help us joyfully obey God. No one in the entirety of human history has learned to obey God by obeying their parents. No one.
3. It is possible to teach children to have wisdom. This is far better than mere obedience. It's a little slower and sometimes looks messier in the moment, as the best way to teach wisdom is by allowing a child to make choices, live with the good or bad consequences, and help them connect their experimental lessons to the wisdom of Scripture. This prepares a child for all of life, where they need wisdom (daily), not just unquestioning obedience (almost never).
Many a parent has come to grief by inculcating unquestioning obedience in their child. Later, as parental influence naturally waned in their maturing child, they discovered their child was still very compliant and obedient. Except now they were listening to others who did not have their child's best interests at heart. Inculcating wisdom is far better than obedience.
4. Consistency is the key, not obedience. A wise parent consistently calls their children to meet age-appropriate expectations. Yet this doesn't need to devolve into a battle of the wills.
Piper says,

"Little children, under a year old, can be shown effectively what they may not touch, bite, pull, poke, spit out, or shriek about. You are bigger than they are. Use your size to save them for joy, not sentence them to selfishness."
Yet God never calls us to fight or defeat our children. Instead, He calls us to train them and instruct them (Eph. 6:4). The wise parent consistently lays before his child the path of life (as found in Scripture) and lets them experience the consequences of choosing unwisely. These lessons are far better learned than the ones created through the artifice of obey or be punished.
5. It is easier to require obedience than to understand your child. Lazy or permissive parenting is a bad idea, but that doesn't make immediately punishing a child for every disobedience a good idea. This is a false dichotomy. We don't have to choose either of these extremes.
Far harder than letting children have their way or demanding children do everything your way, is trying to understand a child. Their needs and desires, their capabilities and passions may be expressed in immature or inappropriate ways, but those are opportunities to make sure a child is heard, understood, and given the opportunity to learn how to do it better in the future. This bears the fruit of wisdom far better than simply punishing disobedience.
6. There is an alternative to generational cycles of passivity or punishment: Gentle Christian Parenting. It's rooted in treating our children in the same way God, the ultimate example of fatherhood, treats us. We take seriously that we should bear the fruit of the Spirit at all times, including in how we discipline our children. We note that dozens of times the apostles command Christians to be gentle, compassionate, kind, and respectful. These commands come with no exceptions for children. When Paul writes "Be kind and compassionate to one another, forgiving each other, just as in Christ God forgave you." there is no clause that excludes children. When Peter says "Show proper respect to everyone." he doesn't add a disclaimer that excludes children.
7. There is no path from external compliance to joyful obedience apart from the regenerating work of the Holy Spirit.
Piper writes,

"Children need to obey before they can process obedience through faith. When faith comes, the obedience which they have learned from fear and reward and respect will become the natural expression of faith."
There is a disconnect here between a biblically grounded understanding of salvation and a concept of parenting that is more rooted in tradition than the Bible. Put simply, if there is nothing you can contribute to your salvation, there is also nothing your parenting can contribute to your children's salvation.
That is not to say that parents should stand by passively and allow sin to ingrain patterns and habits in their children! We should teach them the wisdom of Scripture, help them learn to obey God, and when they sin let them experience the natural consequences of their sin.
But to suggest that forced obedience to parents naturally leads one to joyful obedience to Christ mocks the wholly saving work of Christ and the work of His Spirit in us.
8. Happiness isn't found in always expecting to get what one wants, but neither is it found in always obeying a sinful and sometimes selfish person. Children flourish in families where they are genuinely respected as humans made in the image of God and where parents and children engage cooperatively to achieve divinely ordained goals. This is how God calls Christians to live, whether in the microcosm of the family or the community of the church.
9. Theological formation occurs first and deepest by parents. What a mother and father show their child about love and authority is what that child will believe about God. Often for the rest of their life. So it is important to represent God well. Yet since God is slow to anger and extraordinarily patient (1 Tim 1:16), why should we represent Him by immediately punishing every disobedience? That's not how God responds to the disobedience of believers. Instead, God leads us to repentance, not through discipline, but through kindness (Rom 2:4).
Parents, you can do this, and you can do it in a way that bestows dignity and respect to your children as little image-bearers of God.
You can parent through disobedience while bearing the fruits of the Spirit: love, joy, peace, patience, kindness, goodness, gentleness, faithfulness, and self-control for your children. It requires first realizing that our children are our closest neighbors, and God has called us to love them as we love ourselves. And He's called us to treat them as we want to be treated.
And you can teach your children that Biblical obedience is rooted in relationship, not rule-following.