Flourishing Homes and Families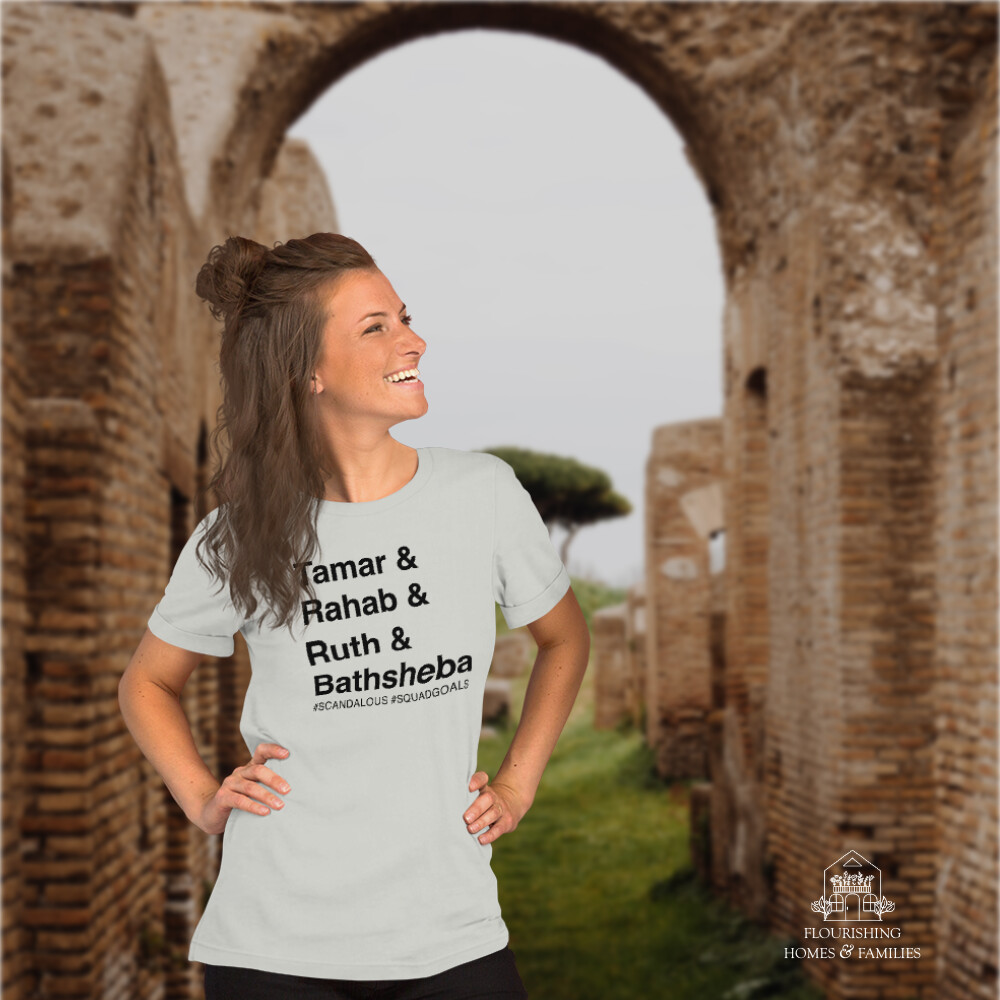 In the genealogy of Jesus found in the book of Matthew, we meet four women with quite scandalous and shameful stories.
You have probably heard that Matthew included Gentile women as a way to communicate that Messiah was for Jews and Gentiles, but there's something else that these women represent.
Before we take a deep dive into these four stories, there's one thing you have to know: Jewish genealogies had no place for women. While women were important in Jewish culture and family, as was the norm in ancient eastern culture, they carried no significance in a genealogical record. One's ancestry was passed down through the father, and as we see over and over again in Jewish genealogies found in both the Biblical record and other Jewish writings, women were simply not a part of an official genealogical record.
So the fact that Matthew includes four women at all, well that's pretty radical all by itself. But these women specifically? It's practically shameful that they're included.
TAMAR - a widow twice over (read: zero social or political standing) who played the part of a prostitute and purposefully committed incest with her father-in-law.
In a culture built on shame and honor, it's easy to see that she brought profound shame on her family, and likewise, any heirs of hers would be marked as outcasts due to the shame she brought on her family. She should be the dirty little secret that the family doesn't talk about.
RAHAB - a Canaanite prostitute who may have engaged in cultic prostitution well into her forties, Rahab's inclusion in the genealogy of Jesus was literally cause for scandal and confusion. Early Jewish converts to Christianity questioned whether Matthew's Rahab was "the Rahab" because it was so scandalous to include a prostitute in a genealogy. Her harlotry was too defiling, too shameful, and too disgraceful!
RUTH - a pagan who most of Israel believed to be forbidden by law to enter the place of worship in Israel. Prior to her marriage to an Israelite, she most likely participated in human sacrifice to the Moabite god Chemosh. She was as wicked and shameful as any enemy of Israel could be. And like Tamar, she was a widow. Completely without any form of security or social standing.
In Ruth's story, we've been taught to see a beautiful redemption love story between Ruth and Boaz, the son of Rahab. And indeed, their story is remarkable! But their story is one that defies social norms: a wealthy landowner of influence and high regard, married to a former pagan? Questionable at best. Scandalous at worst.
BATHSHEBA - A God-fearing, law-keeping Israelite woman who is victimized by the most powerful man in her world. According to the Biblical narrative, Bathsheba was a woman of virtue and honor and was keeping the Law when David saw her bathing for spiritual cleansing. Unlike modern spins on this story, Bathsheba was almost certainly fully dressed when David saw her, performing a purification ritual as prescribed by Law after her monthly cycle. She is violated by the king of Israel, and from that moment on her life spirals into a cycle of victimization, loss, and grief. Ultimately she joins David's other wives and concubines as a permanent member of his household, and will later birth the future king of Israel: Solomon.
That Matthew includes these scandalous shameful women in the genealogy of Christ is no accident. Think about it. He's about to share the story of an unwed woman who becomes pregnant. He's documenting an absolute scandal of a story and claiming that this bastard child is the Messiah Israel has long prayed for.
In this genealogy, Matthew isn't merely documenting ancestral facts. He's writing an introduction to the greatest story ever told. He's reminding us that God takes shame and turns it into glory. That He gives victory to victims. That He gives a place of belonging to the outcasts. And that He redefines who is worthy of honor.
Tamar &
Rahab &
Ruth &
Bathsheba
Four women whose scandalous stories remind us that our God, the one born out of wedlock from the backwoods of Nazareth, He turns shame into glory.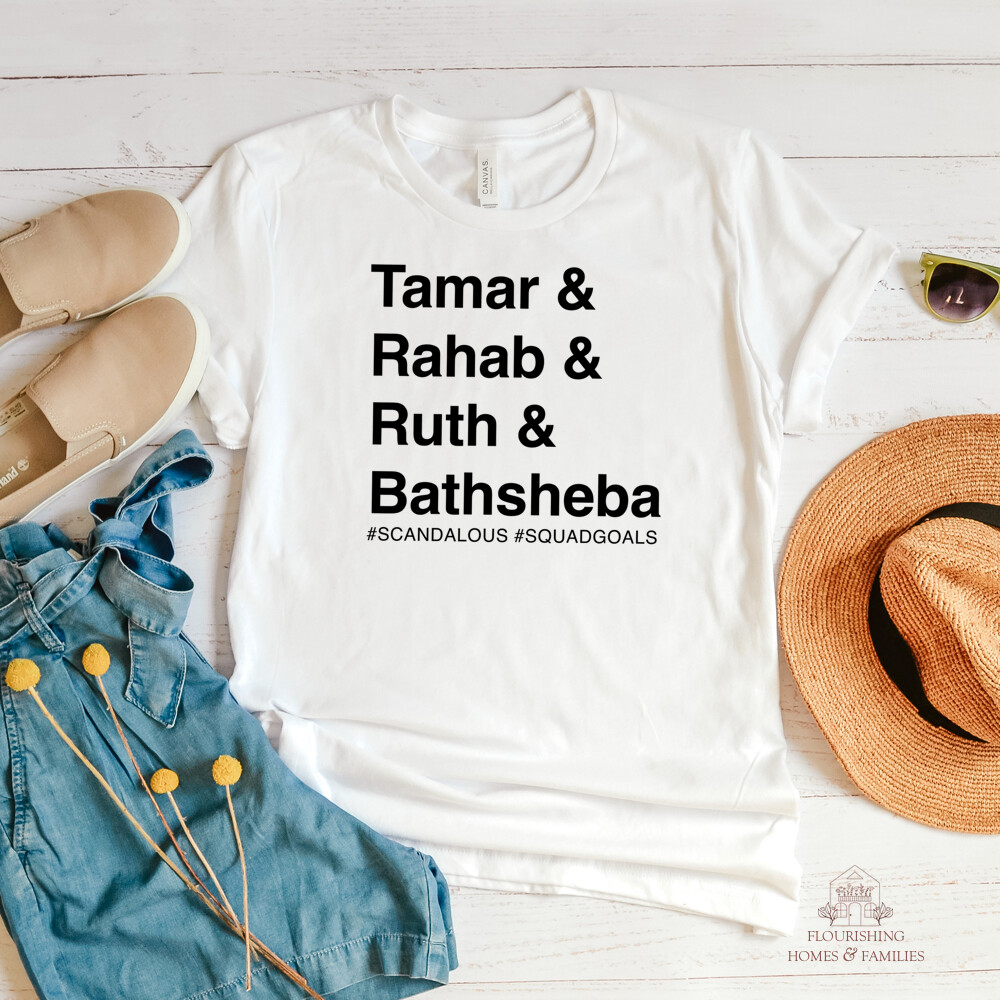 Our Scandalous Squad Goals Tee is versatile and easily dressed up with a light sweater, jeans, and wedges, or dressed down with leggings and flip flops. Made from super-soft, high-quality combed and ring-spun cotton, this shirt fits true to size and is sure to become a favorite staple in your closet.